2023 Heroes of APIC: Leadership
Includes a Live Web Event on 12/07/2023 at 1:00 PM (EST)
Register

Non-member - Free!
Member - Free!
Judi Boger, BSN, RN, CIC, Holly Taylor, MPH, CIC, and Wadha Nasser Al-Marri, BSN, RN
Championing Collaboration to Sustain C diff Reduction: Speaker: Judi Boger, BSN, RN, CIC We will be discussing the Collaborative process that took place in an effort to reduce C diff numbers across the St. Elizabeth Healthcare system. We started by setting a new SIR Goal and then through the use of documentation tools in the EMR, conducting weekly HAI analysis meetings and a monthly meeting of our C diff Collaborative, we were able to see a sustained reduction in C diff rates.
Strategic planning as a core leadership competency: Speaker: Holly Taylor, MPH, CIC This session will provide an overview of key tools used to develop an infection prevention program strategic plan. Attendees will learn how infection prevention leaders can effectively prioritize interventions to achieve program strategic aims and leverage program wins to build a business case for additional resources.

Continuing Education (CE) Credit: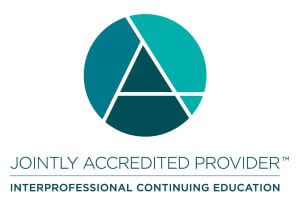 In support of improving patient care, the Association for Professionals in Infection Control and Epidemiology (APIC) is jointly accredited by the Accreditation Council for Continuing Medical Education (ACCME), the Accreditation Council for Pharmacy Education (ACPE), and the American Nurses Credentialing Center (ANCC), to provide continuing education for the healthcare team.
The Association for Professionals in Infection Control and Epidemiology (APIC) designates this activity for 0 nursing contact hours. (not always applicable as not all webinars are eligible).
To get CE credit for a webinar, you must attend the program in its entirety and complete an on-line evaluation of it. Your feedback is not only required by our accrediting body, but it is vital to development of future programming that best meets learners' needs. We read every word you write.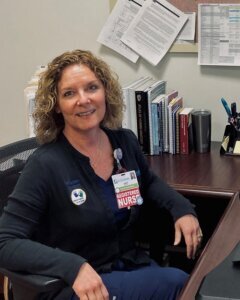 Judi Boger, BSN, RN, CIC
Infection Preventionist
St. Elizabeth Healthcare
Judi Boger successfully engaged stakeholders across the St. Elizabeth Healthcare system to enable a sustained decrease in Clostridioides difficile (C. diff) rates at the organization.
A previous C. diff performance improvement effort had reduced St. Elizabeth's infection rates, but over time they increased again and plateaued. St. Elizabeth's leadership team appointed Boger to lead a second quality improvement (QI) effort, anchored by a multi-disciplinary C. diff collaborative that included representatives of pharmacy, nursing, pathology, laboratory, infectious disease, environmental services, information technology, quality, and the St. Elizabeth executive team.
Boger actively championed the collaborative approach, leveraging the expertise of each department to create the structures and systems that would ensure they met their goals and were able to sustain improvements. These included electronic tools and new laboratory procedures to support C. diff monitoring and decision-making, bedside swarms for every hospital-acquired C. diff case, and monthly system-wide C. diff collaborative meetings, where innovative ideas are discussed and considered, and every C. diff case analyzed. "Every month, we evaluate cases to assess what we could have done better and determine if there is a need for additional education, or just continue to monitor for trends," Boger said.
Throughout Boger's three-year tenure as the C. diff collaborative lead, St. Elizabeth's C. diff rates have consistently decreased, with a standardized infection rate (SIR) consistently below 0.7. The healthcare system has surpassed its internal SIR goal of 0.5 and remained under the National Healthcare Safety Network C. diff benchmark.
Boger's leadership in keeping the collaborative on task, staying committed to monitoring and meeting regularly, creating open dialogue among key stakeholders, and consistently sharing lessons learned has enabled the C. diff initiative to switch from QI to a sustained maintenance phase.
"Having that collaborative effort around you makes all the difference," Boger said.
$i++ ?>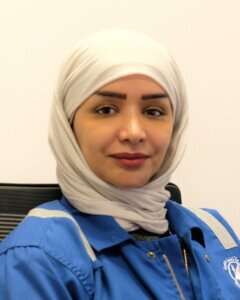 Wadha Nasser Al-Marri, BSN, RN
chief of infection prevention and control
Ahmadi Hospital-Kuwait Oil Company
Wadha Almarri created and implemented a multi-disciplinary initiative that significantly reduced ventilator-associated pneumonia (VAP) rates in the adult intensive care unit (ICU) of Ahmadi Hospital in Kuwait.
After being appointed chief of infection prevention and control (IPC) at the hospital in 2019, Almarri quickly identified ICU VAP reduction as an organizational priority. Following a retrospective analysis of VAP cases – which uncovered root causes and contributing factors – Almarri developed an action plan that was then reviewed by the hospital's Infection Prevention and Control Committee (IPCC).
"The IPCC comprises members of our hospital's executive and senior management," Almarri said. "Their deliberation of the action plan paved the way for leadership support."
The resulting program relied heavily on partnership to achieve its goals. Almarri initiated the development of a VAP prevention care bundle and checklist, involving ICU clinical staff in a comprehensive literature review as well as multiple meetings to review the resulting, recommended interventions. The project's multi-disciplinary working group of infection preventionists, ICU medical consultants, nursing administrators, and respiratory therapists then partnered with ICU clinical staff and other healthcare workers to support consistent checklist compliance and provide regular feedback.
"Hospital leaders went the extra mile to participate in clinical rounds with healthcare workers," Almarri said. "This motivated the clinical department heads and, in turn, their staff."
Almarri worked with the hospital's Information Management Services department to integrate the checklist into electronic medical records, and then gathered feedback to improve user convenience, documentation compliance, and application of the bundle interventions.
In less than two years, the program reduced VAP incidence in Ahmadi Hospital's adult ICU from a baseline of 5.66 per 1,000 ventilator days in 2018 to 0 per 1,000 ventilator days in 2020.
"I attribute the success of this program to the partnership environment we established, which generated a sense of shared goals and responsibilities," Almarri said.
$i++ ?>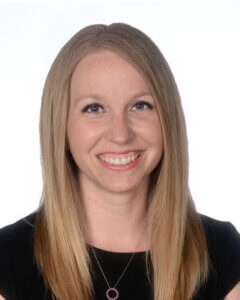 Holly Taylor, MPH, CIC
Infection Preventionist
Ascension Texas
Holly Taylor spearheaded a quality initiative that reduced healthcare-associated infections (HAIs) across Ascension Texas' 13-hospital network and enabled the organization to maintain critical infection prevention processes during the COVID-19 pandemic.
Taylor joined Ascension Texas as director of infection prevention in September 2019. During her first few months at the organization – and as part of the process to develop a strategic plan for the infection prevention and control (IPC) department – Taylor conducted a SWOT analysis of Ascension's IPC program. The exercise had multiple objectives and benefits, enabling Taylor to quickly assess the culture of the IPC team, seek feedback on the program, and understand perceptions of it. Importantly, the SWOT also helped her prioritize changes within the department to improve HAI performance.
"The organization appreciated the active listening before I started to change things," Taylor said.
Once the SWOT was completed, Taylor identified the two highest priority objectives: Modifying the IPC program structure to implement centralized surveillance and standardizing major components of the IPC workflow across the Ascension network. "We needed to leverage technology better to identify the trends across hospitals that we could fix one time rather than 13 times," Taylor said. Over the next 18 months, Taylor and her team secured leadership buy in and successfully implemented these changes. These included employing experienced, retiring infection preventionists (IPs) to assist on an as-needed (PRN) basis with specific IPC quality projects, including surveillance.
When the COVID-19 pandemic hit, the newly implemented IPC systems and structure supported two additional objectives: preventing burn out among on-site IPs, and continuing surveillance when they didn't have the bandwidth to do it. Site-based staff were able to focus on the constantly evolving COVID-19 guidance, while the remote team continued HAI surveillance and investigation.
"By giving the IPC team the tools and resources they needed, we were able to maintain our systems and staff even during the toughest COVID times," Taylor said.
$i++ ?>
Key:

Complete

Next
Failed

Available

Locked
2023 Heroes of APIC: Leadership
12/07/2023 at 1:00 PM (EST) | 60 minutes
12/07/2023 at 1:00 PM (EST) | 60 minutes
Revised Evaluation: 2023 Heroes of APIC: Leadership
11 Questions
11 Questions
Thank you for participating in this APIC activity. Please complete the evaluation to obtain continuing education, if applicable. Once you've completed all aspects of the activity and evaluation, you will then gain access to your continuing education.
Continuing Education: 2023 Heroes of APIC: Leadership
No credits available | Certificate available
No credits available | Certificate available